Skype for Business is End of Life

.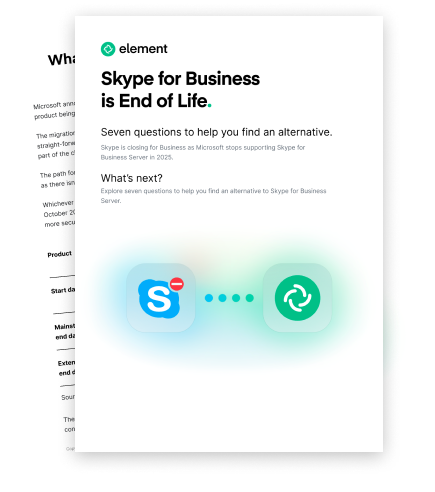 Info sheet:

Ask seven questions to find the right alternative
On-premise communications might be your priority, but it clearly isn't Microsoft's.
Whichever version of Skype for Business you're using, extended support stops in October 2025; and that means no innovation or enhancements, and more expense and more security risks.
This info sheet explores seven questions to help you find an alternative communications platform:
Does Skype have a convincing product roadmap?
Do you really need to keep it on-premise?
Will your platform need to evolve to fit changing work patterns?
Is securing communication as important as keeping it on-premise?
Can you migrate from Skype but remain connected to it?
Do you need mission critical communications?
Can you support air-gapped, and highly secure environments?
For more detail, download the info sheet.
Download info sheet
Get out of Skype, and into your element.
Element is the natural replacement for Skype for Business Server. It offers the same data ownership model, but with the added protection of end-to-end encryption and a complete messaging and collaboration platform with VoIP and enterprise-grade functionality.
Data sovereign; on-premise or cloud
E2EE messaging and VoIP for 1:1s and groups
Powerful federation to support external partners
Ideal for air-gapped environments
Remain connected with bridging to Skype
Easy migration paths from Skype to Element
Trusted by the world's most secure organisations.