Download report
Element empowers critical infrastructure and utilities providers with secure and resilient communications

.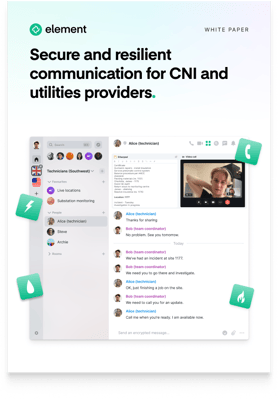 Cyber attacks, global outages and physical world disruption can cause cities to go without power and lives to be put at risk.
Element provides CNI and utility firms with secure and resilient real time communication across their entire ecosystem to protect against external threats, improve productivity and ensure compliance.
Download the report to learn how Element empowers utility organisations to:
Ensure a separate, resilient network for mission-critical communications

Customise real time communication for your specific requirements

Communicate quickly and safely across the supply chain

Unite office and field-based teams

Download the report by filling out the form.
Trusted by the world's most secure organisations
.